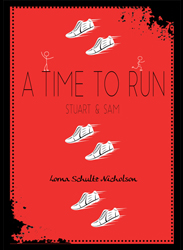 Description
Stuart can run like the wind.  It's a skill that has come in handy for him all his life.  Born with fetal alcohol spectrum disorder (FASD), Stuart has learned to run away from all kinds of trouble – at least, if he can recognize it.  Sometimes it's hard for him to know when a friend really is a friend or when he's just bad news.
Sam is a basketball player destined to play on a university varsity team until he is sidelined by a dangerous heart condition.  After losing the one thing that centres his world, Sam focuses his energy on helping his Best Buddy, Stuart, make the school track-and-field team.
But first, both Stuart and Sam must come to understand that there is a time to run and a time to stay where they belong.
Details
Page Count: 201 pp
Format: PB and e-book
Publisher: Clockwise Press
ISBN:9781988347097
Categories: Children and YA Fiction
Age Range: 11+
"A Time To Run is another heartwarming story by Lorna Schultz Nicholson. I highly recommend it to tween and teen readers, adults, educators and to anyone who enjoys books that foster diversity, hope and sympathy."