Meet Mitch Marner, the superstar playmaker of the Toronto Maple Leafs!
In only a few short years with his beloved Maple Leafs, Mitch Marner has racked up record-setting points and made countless plays happen for his linemates. And his OHL career is legendary. Mitch won a lot of trophies! But getting to the NHL wasn't always a certainty for Mitch. Coming up through youth hockey he was considered small ― maybe too small to make it in the NHL. Mitch had heart and never gave up. Off the ice, he's also shown where that heart is, starting an Invitational All Star event in support of children's charities and community hockey.
This full colour easy-to-read biography is packed with photos and has lots of pages of hockey action comic sequences. It's for sure a favourite read among young hockey fans!
Just Released – Just Three
Before Rory and Jillian's mother died two years ago, she hired Rebecca to be the family housekeeper. But Rebecca is a terrible cook and not so great at housework either. The weird lunches and laundry disasters drive the twins crazy. One day Jillian catches her father flirting with Rebecca and decides it's time to find him a girlfriend. Rory disagrees. But eventually he goes along with the idea, and they create a profile for their father on an online dating site. Dad is very reluctant, but Jillian gets him to agree to go on three dates before giving up. Each date turns out to be more disastrous than the last.
Will Rory and Jillian manage to find their dad the perfect match? Or was the answer right in front of them the whole time?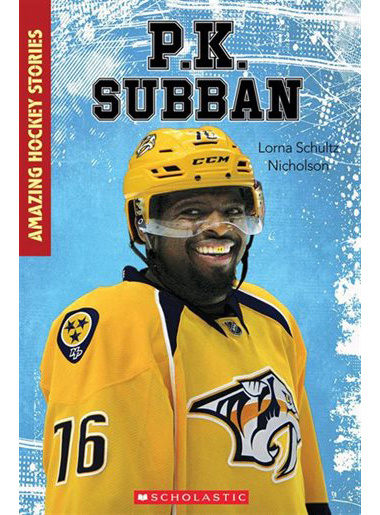 Just Released – P.K. Subban
An exciting, behind-the-scenes look at P.K. Subban – a superstar both on and off the ice!
From his earliest days, P.K. (short for Pernell-Karl) has been a force! He comes from a family dedicated to hard work and fun; a family not afraid to take chances. Amazing Hockey Stories traces his journey, from his time as an Atom to his time on Team Canada, when he won Olympic gold, and then all the way to the NHL and his exciting Stanley Cup runs with the Predators.
This book also highlights Subban's commitment to important causes. His support for the Montreal Children's Hospital and other children's charities has made Subban a hero off the ice. Almost as legendary? His sense of humour and cutting-edge style!
In this third book in the series, author Lorna Schultz Nicholson, a bona fide lover of the game, gives young readers an up-close look at this true hockey superstar.