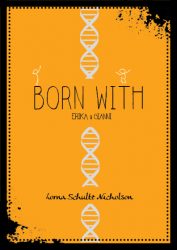 Description
Meet Erika and Gianni: One is a fifteen-year-old girl who loves to dance and sing and make people laugh. She tells people that she was born with an extra gene, but her sister has to buy hers at the mall (ha, ha!!).
Being in three dance numbers in the school production of Grease is a big job, but with the help of her Best Buddy, Gianni, Erika knows her can be a star.
The other is a Grade 11 boy with a secret. Like his Best Buddy, Erika, who was born with Down Syndrome, Gianni loves to sing and dance. He also knows that he was born different from the other boys in his school — but is he that different from Blake, the cool, attractive male lead in the school play? Or is he just imagining that the sparks between them are mutual? And will the rough gang of guys at school also pick up on who he really is?
Told in the alternating voices of Erika and Gianni, Born With is the story of two teens who help each other to find their own versions of success and acceptance.
Each One-to-One novel tells the story of a different pair of teens participating in the Best Buddies program at Sir Winston Churchill Secondary School. Follow the lives of this group of friends who come together with different expectations and problems, seeing the world from their own unique perspectives and facing it head on together.
Awards
VOYA Magazine Top of the Top Shelf list for Middlge Grade Fiction
Red Maple Nominee
Details
Page Count: 232 pp
Format: Paper and e-book
Publisher: Clockwise Press
ISBN: 978-0993935176
Categories: Children and YA Fiction
Age Range: 13+