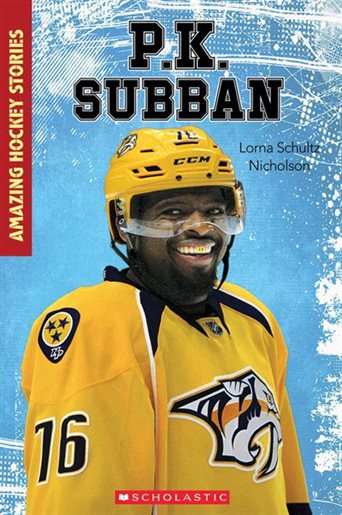 Description
An exciting, behind-the-scenes look at P.K. Subban – a superstar both on and off the ice!
From his earliest days, P.K. (short for Pernell-Karl) has been a force! He comes from a family dedicated to hard work and fun; a family not afraid to take chances. Amazing Hockey Stories traces his journey, from his time as an Atom to his time on Team Canada, when he won Olympic gold, and then all the way to the NHL and his exciting Stanley Cup runs with the Predators.
This book also highlights Subban's commitment to important causes. His support for the Montreal Children's Hospital and other children's charities has made Subban a hero off the ice. Almost as legendary? His sense of humour and cutting-edge style!
In this third book in the series, author Lorna Schultz Nicholson, a bona fide lover of the game, gives young readers an up-close look at this true hockey superstar.
Details
Page Count: 64 pp
Format: Paperback
Publisher: Scholastic Canada (September 03, 2019)
ISBN-10: 1443170240
ISBN-13: 978-1443170246
Categories: Children, Biographies and Memoirs
Age Range: 13+